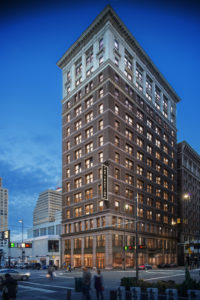 The developer looking to bring the region's first Kimpton Hotel to downtown Cincinnati finally received Ohio Historic Preservation Tax Credits to help with the project.
Parkes Development Group LLC, the owner of the Traction Building, was awarded just more than $4.2 million in state tax credits for its proposed redevelopment of the building at 432 Walnut St. into a 153-room Kimpton Hotel. The total project cost is expected to be more than $48.3 million.
Gary Parkes, principal of Parkes Development Group, said he was overcome with emotion when he received the news.
"I was so excited, I cried," Parkes told me. "This is a boost to really make this project a reality. Persistence finally won the day."
The Traction Building, also known as the TriState Building, was one of 12 projects in Southwest Ohio that were awarded state historic tax credits in round 20. The project had applied for state tax credits in round 18 and round 19. It was not selected previously.
Parkes said after securing the state tax credits he is hoping to launch the project in the fall and begin construction. He expects the project to be complete in the first quarter of 2020.
The boutique hotel, which is expected to include a restaurant, fitness center and rooftop bar, would employ 116 and have the capacity to serve 55,000 room nights per year, generating more than $15 million in annual revenue.
The project would be an adaptive reuse of the building, which has been listed on the National Register of Historic Places. The Traction Building was designed by Chicago architect Daniel Burnham in 1902. Many of the building's historic elements will be preserved. Ave Bradley, senior vice president of design at Kimpton, is leading interior design and architecture for the hotel in partnership with Poesis Design and Chamberlain Architects.
"We've got our work cut out for us from a historic standpoint and unique conditions we might find," Parkes said.
This would be the second Kimpton hotel in Ohio, after its Kimpton Schofield Hotel in downtown Cleveland, which opened in March 2016. The next-closest Kimpton hotels are in Nashville and Pittsburgh.
Kimpton Hotels & Restaurants, based in San Francisco, operates more than 60 hotels and 70 restaurants, bars and lounges in cities and resort destinations in the U.S., Europe and the Caribbean. It became part of the InterContinental Hotels Group family of hotel brands in January 2015.
Parkes Development Group is the real estate development affiliate of the Parkes Cos. Inc., based in Franklin, Tenn. The family-owned and operated firm is engaged in commercial, industrial and heavy civil construction of all types throughout the U.S. Parkes Development is involved in the retail, entertainment, mixed-use, multifamily, hospitality and build-to-suit sectors of real estate development with a project pipeline of more than $500 million.
Parkes thanked the team that has been working on the project as well as many supporters and consultants.
"I'm excited for what this can mean for downtown Cincinnati," Parkes said. "Everybody is going to be very, very happy with what we come up with."
Published by Lacie